How to prepare for the best Laos vacations ever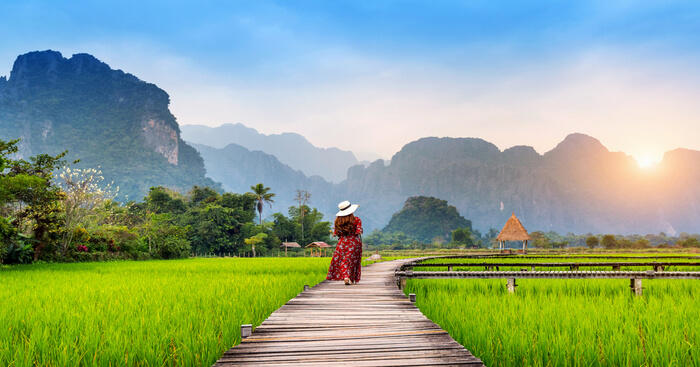 Traveling to Laos – one of the rising stars of Indochina tourism is a new trend nowadays. With the empty roads, stunning sceneries as well as good security, Laos is such an extremely attractive destination on your journey to Southeast Asia. Hence, to prepare for successful Laos vacations, you will need the following Laos travel experience and knowledge to equip yourself well. 
Let's discover what they are!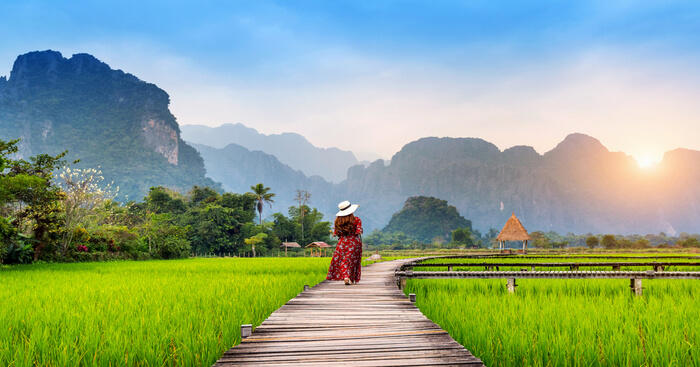 What should you bring?
Some of the most important things for your journey include: 
Documents like Passport, tourist book, travel map,…

A hat, sun protection clothing, face masks, sunglasses, and gloves will help you avoid extreme sunburn. 

Soft low-heeled shoes are perfect because you have to move between many tourist destinations in Laos.

Cold medicines, insect repellent, and other medicines should be included if you have other illnesses to ensure a safer trip.

A SIM card and exchange money need buying right at the border gate. 
The weather in Laos
The climate in Laos is a dry and humid monsoon climate with an average temperature of approximately 29°C. 3 different seasons in this country are:
Hot season (March to May), the temperature can be up to 40 °C.

The rainy season (May to October), with rains quite often and the temperature about 30°C. 

The dry season (November to March), with less rain and temperatures of about 15 °C, or even down to 0 °C in the mountainous area at night. In this season, Laos enters the coldest period of the year with less rain and also the festive season and the "peak tourist season" with crowded tourists.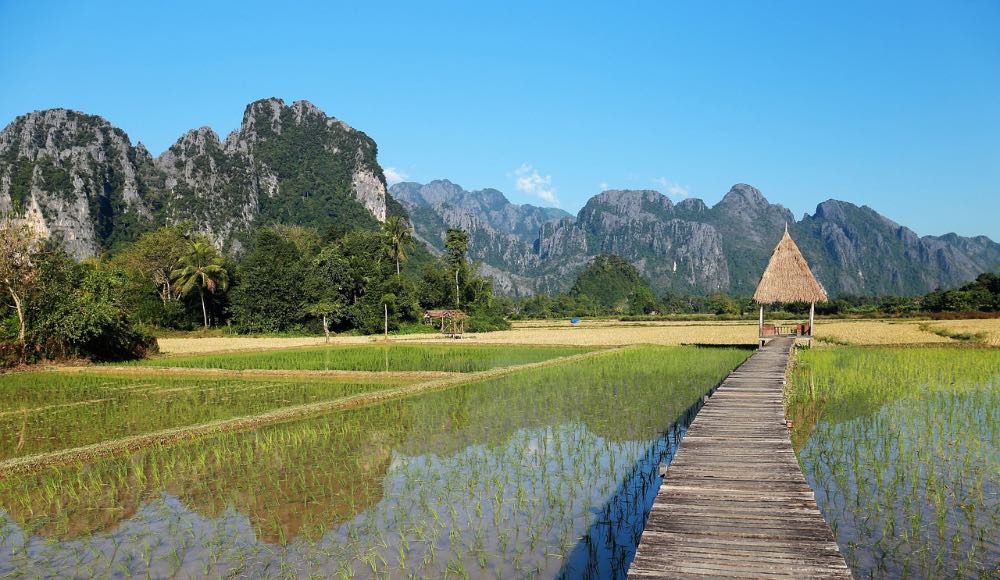 How much do Laos vacations cost?
You don't need to be a rich person to be able to explore the whole country. The fee for services in Laos is quite reasonable so it will not break your bank account. Here's the estimation of the travel fee in Laos for a period of 5 days:
Accommodation costs are about $8 – $10 per night in most places. You can find cheaper motels at cheaper costs. The entrance fee to top attractions and activities are quite low-costed varying from $3 to $7. If you take a Mekong Riverboat for a 3-day trip, you will have to pay around $31. Costs for foods and drinks are also quite cheap, $10 is too much for a delicious meal. Fees for transportation vary from $5 to $15 depending on your destination and types of transportation.
How can you move from one point to another in Laos?
People in Laos mainly use tuk-tuks to easily reach the main attractions in Vientiane or Luang Prabang. Alternatively, you can rent bicycles to go sightseeing with only not over $10  or go on foot to nearby locations.
Public transport is underdeveloped, taxis are only available in big cities. Buses and songthaews (bus-trucks) are also primary ways to get from this city to another. 
Some interesting attractions in Laos
It is also a must to know some attractive sights that tourists should not ignore when arriving in Laos. Cities for tourism, leisure, and entertainment that you must visit are Vientiane, Luang Prabang, Pakse city, Luang Namtha city, Savannakhet city. 
Vientiane is the capital city of Laos with unique historical relics that have a strange attraction to visitors such as Khai Hoan Mon, Thang Luong, and Cho Sang. For Xieng Khuang, the plain of jars with myths behind is also a hard-solving question for tourists all over the world. Come to Savannakhet to admire the development of the economy or explore Luang Prabang, the world's cultural heritage with a peaceful and friendly city to every Laotian. Check out tours from Hanoi to Vientiane by motorbike now! 
Other famous tourist attractions in Laos include Vieng Xai, Pak Ou cave, Wat Phu temple, Pha That Luang tower, Wat Xieng Thong pagoda, Si Phan Don waterfall, Vang Vieng, Bokeo nature reserve, Tham Kong Lo cave, and Mekong river.
Unique cuisines in Laos
Lao cuisine is a good mixture of the cuisine of neighboring countries (Cambodia, Vietnam, and Thailand) which is spicy, sour, and sweet in just a dish. However, the country still has some very unique styles in its food that can be found nowhere in the world.
Specialties in Laos are grilled dishes with natural ingredients from gardeners. chicken, grilled stream fish, beef, buffalo meat … .. and Greek dishes are also very special. Try Khao niao, Laap, Tam maal hun, Khai phaan, Kai yang,…! You will not be disappointed.  
Typical drinks of Laos are Tuberculosis and Laos beer. Tuberculosis is a kind of wine brewed from rice, with a dark brown color like whiskey. Lao beer is very delicious which is a culinary product created by Lao creativity.
Coming to Laos, you and your fellow travelers should not miss the night markets where you can enjoy Lao beer mingled with barbecue in the poetic foggy night.
Taboos in Laos' culture
Besides knowledge you should prepare when traveling to Laos, you also keep the following notes in mind:
In communication with native speakers: 
 Kissing hands, holding a woman's waist in Laos is a taboo action.

When taking photos with a native girl, you should shrink your hands behind your back or leave them all to the front.

Touching or patting a Lao head (especially a man) is considered an insult to them.
In daily activities
 When visiting pagodas, you absolutely must not make loud noises, wear revealing clothes, or having impolite words.

Pay attention to and strictly follow the prohibition signs in Laos.

When taking

motorbike tours in Laos

, you should not honk the horn loudly. The sense of obeying traffic laws in this country is very high.

When sleeping at a homestay of local people, you must not turn your head towards the entrance. At night, you should not cut your hair or shave.
Time to sum up,
For those who love peace, quietness, or nostalgia, Laos is an ideal destination. The period of time from November to April is a good time to travel to Laos, so visitors should quickly arrange for the perfect Laos vacations with our useful sharings above. Don't forget to keep in mind all things you have to prepare carefully listed. Wish you have a perfect and memorable trip!