THE 5 DESTINATIONS YOU CANNOT MISS FOR A PERFECT ADVENTURE IN VIETNAM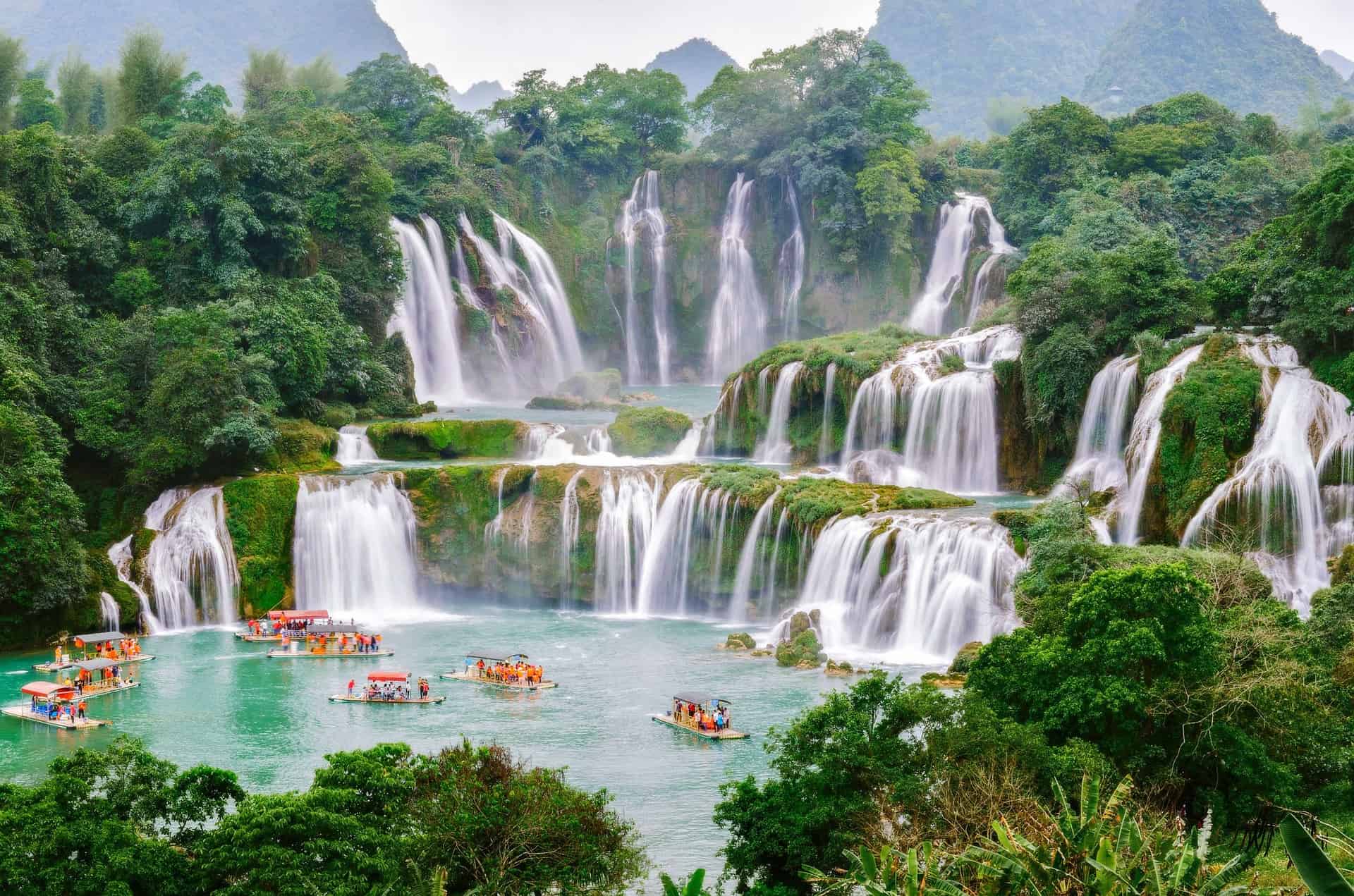 Vietnam is one of the most attractive destinations in Southeast Asia. Besides impressive cuisine and unique culture, Vietnam is famous for its abundant stunning landscapes. From the North to the South, each area of Vietnam has different topography and climate. Vietnam is located on the edge of the Indochinese peninsula, so there is a very long coastline with a complicated system of islands and bays. ¾ of the territory is covered by imposing mountains and vast forests. In short, Vietnam is blessed with so many spectacular landscapes. Of those scenic spots, the following 5 destinations will make your adventure in Vietnam the most perfect and definitely unforgettable.
Tu San Alley
For those who have a passion for a Vietnam motorcycle trip, Dong Van Stone Plateau is no longer a new name. This place is a rugged yet majestic rocky region located 132 kilometers from Ha Giang town. This is where you find Ma Pi Leng Pass – the most dangerous pass in the four greatest passes of Northern Vietnam. From this winding Ma Pi Leng pass, you can admire incredible sceneries, including Nho Que River and Tu San Alley.
Tu San Alley is known as the deepest canyon in Southeast Asia, with a cliff height of up to 800 meters, length of 1700 meters, depth of nearly 1000 meters. Tu San Alley shows a truly unique beauty of the Dong Van rocky plateau. This alley was the product of wonderful tectonics dating back millions of years when the whole area was still immersed in the immense ocean. Only a few years ago, when Nho Que River was blocked to make a hydroelectric dam, very few people could reach the foot of the Tu San Alley. Back at that time, visitors could only see this wonder from Ma Pi Leng Pass. But now this fantastic destination is available for you to enhance the adventure in Vietnam. 
Ban Gioc Waterfall
Located in Trung Khanh district of Cao Bang, Ban Gioc is the most majestic waterfall in Vietnam. Actually, Ban Gioc is considered the second-largest cross-border waterfall in the world. Right from afar, you can hear the rumbling sound of the water flow. From a height of over 30 meters, large "blocks" of water pour down through many limestone steps. In the middle of the fall, there was a huge rocky structure covered with trees, which tears the water flow into three streams. On sunny days, the steam also creates a little rainbow. At the foot of Ban Gioc waterfall is a large-scale clear water surface. On both sides are verdant forests. It is really a stunning view
Coming to Ban Gioc waterfall, you should also visit Phat Tich Truc Lam pagoda, which is only 500 meters from the fall. The pagoda was built according to the unique Vietnamese architecture. Another place to see is the Pac Bo historic site. This is where you can learn more about the life of Ho Chi Minh – the supreme leader of Vietnam. The perfect time for a Ban Gioc waterfall tour is in August or September.
Son Doong Cave
With the event on April 5, 2009, after discovering Son Doong Cave, British Cave Research Association has shocked the world. Located in Quang Binh province of Vietnam, Son Doong Cave is the world's largest natural cave. The cave is a part of an underground system connected to more than 150 other caves. The cave is an incredibly magnificent landmark with stalagmites of different shapes. Another amazing thing about the cave is that there is an ancient forest still growing inside. Geologists assumed that finding Son Doong Cave is as crucial as finding Mount Everest. The cave is 6 kilometers long, 150 meters high, and 200 meters wide. The magnificent stalactite systems here creates a down-to-earth version of "Journey to the Center of the Earth". If you want to make your adventure to Vietnam more exciting, don't miss this site. 
Halong Bay
Halong Bay is undoubtedly always on the list of Vietnam's most famous destinations. This place has been recognized as one of the new 7 wonders of nature. With incredible beauty, abundant flora and fauna, as well as many historical and cultural values, Ha Long Bay has become a world-class tourist attraction. This site is known for its 1969 islets and plenty of natural caves created over millions of years ago. Each islet and cave has its own exciting story. Here you will hear the legend of the dragon and the jewels, as well as the glorious historical victories of the Vietnamese. You have an opportunity to experience exploring the place on a cruise, participating in different activities such as kayaking, visiting monkey islands, exploring caves, etc. You can also take some rest on the beautiful beaches here. In short, there are a lot of exciting things about this place to make your trip to Vietnam perfect.
Fansipan Mount
Perhaps "a worthwhile adventure in Vietnam" is a hint about the Northwest of the country. This is obvious since the place has a rough mountainous terrain with countless beautiful scenes, unique ethnic culture, and extraordinary exotic food. Of all the destinations of the area, Fansipan Mount is one of the most attractive ones. Fansipan is considered the roof of the Indochina Peninsula with a height of 3147 meters. The mountain belongs to the Hoang Lien Son range in Lao Cai and Lai Chau. The name in the local language means a tottery giant stone. For trekking enthusiasts, this attraction is irresistible. However, conquering the peak requires your proper preparation and a supportive team. Some excellent famous sites around for you to come are Sapa Heaven Gate, Fansipan Legend, Van Son tea shop, and the temple complex. The moment when you reach the top on your own is definitely a lifelong proud.
So now you know 5 great places to visit in the S-shaped country. Of course, if you have more time, you can enrich your adventure in Vietnam with other well-known sites such as My Son Sanctuary, Yok Don National Park, Can Gio mangrove biosphere reserve, Phu Quoc Island, and more. Pack your bags and head for a fantastic trip to Vietnam now!